How to Repair Roof Leak in Dallas Fort Worth
A roof leak is an inconvenience no Dallas Fort Worth homeowner wants to experience, but there is likely a time you may have to deal with this problem. Roof leaks can happen for a number of reasons. Some of the most common of these include damaged or missing roof shingles, inadequate seal around flashing, debris, such as branches, holes in the roof, and normal wear and tear that comes with age. 
Roof leaks are a nuisance, and when they happen, North Texas homeowners must give prompt attention. There are some ways you can handle this issue on your own. Here you can find out how to fix a leaking roof and avoid further damage from occurring to the home. 
How to Fix a Leaking Roof for homes in Dallas Fort Worth
As you know, living in the Dallas Fort Worth Metroplex can supply residents with ample amount of unpredictable and severe weather conditions. Mother nature provides a slew of climate conditions that keep us on our toes… scorching summer temps, freezing winter conditions, and annual heavy winds and torrential downpours. As the home's first line of defense, it's no wonder these components eventually break down. 
For many Texas homeowners, you may notice a leak as water drips from an interior ceiling. The first response is usually finding a bucket or pot to catch the water. This is also a great time to remove any surrounding valuables, such as furniture, wall hangings, rugs, or other home goods. And while you may wonder how to fix a leak in the ceiling, the problem is not so much with the ceiling, but with the roofing structure itself. Something happened from up above that is making the drips fall from the ceiling. Now is when the work begins. 
To start, find the source of the leak. This can prove the trickiest part, but essential to put a stop to the leak. Some tips that can help you find the source of roof leak include checking for drips in the attic, staining, or mold growth. It's not enough to assume the leak is directly above the home ceiling. It takes some tracking to determine the actual source of the leak. Follow the clues that indicate the presence of water, and you can likely determine the source.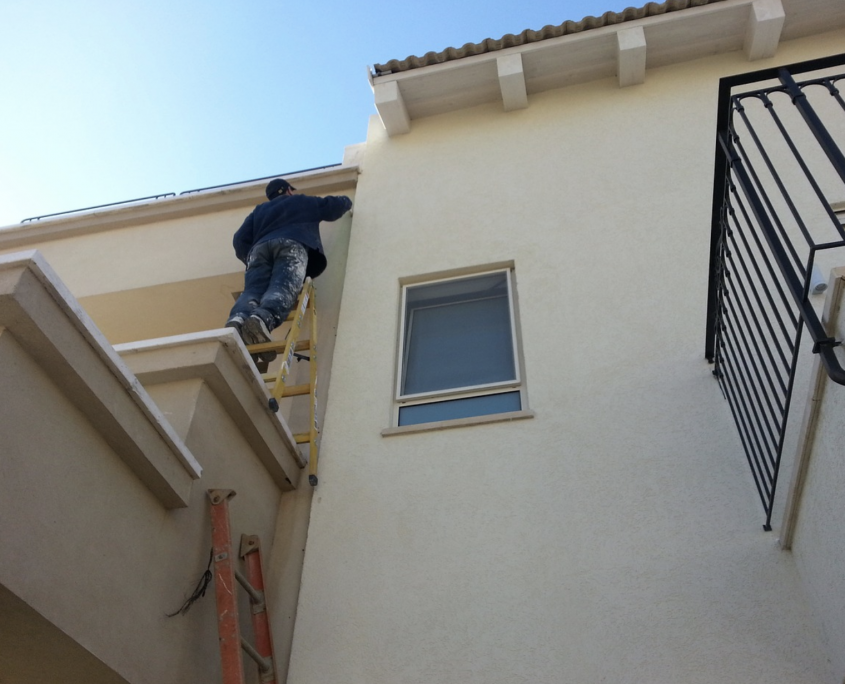 For sneaky leaks, you can carefully climb a ladder to the roof with a garden hose. Estimate the location of the leak and run water over the area of the roof. For this method, you'll need an extra set of eyes so they can watch for dripping water inside the house. This can take several minutes, and you may need to change areas you saturate. 
Damaged areas may be visually obvious. Holes and missing shingles are likely culprits, and you can make the necessary repairs, such as shingle replacement or boarding up a hole temporarily with a sheet of metal flashing. You can find this at just about any home improvement store. The keyword here is temporarily. This fix is not a long-term solution, and it's recommended to get in touch with a skilled roofing company who can provide you with a permanent fix that can help protect your investment. 
Trusted Texas Roofers Serving the Dallas Fort Worth Metroplex
DIY is admirable and we encourage homeowners to tackle the everyday issues that may occur, including roof leak repair. Understandably, climbing on top of your home's roof can prove dangerous and without the right tools, knowledge, and experience, this can become much bigger than your roof leak. Get the job done safely and confidently with Rebuild Texas. 
Rebuild Texas provides expert roofing service to the Dallas Fort Worth Metroplex and Southlake. With state-of-the-art tools, our fully licensed and professional technicians can quickly locate the source of your roof leak and remedy the same day. We understand the urgency of roof leaks and the damage they can quickly incur. We help home and business owners secure their investment with prompt, professional service, and guaranteed workmanship. 
For honest and reliable Dallas Fort Worth roofing service, get in touch with Rebuild Texas today. We offer free roof inspections and estimates and can stop your roof leak right away. And with staffed licensed insurance adjusters, we can help you file your home insurance claim. Contact us today.