Free Round Rock Roofing Inspections
&

Estimates
Your Round Rock Roofing Service Of Choice
When you need roofing services in Round Rock, you need Rebuild Texas.
Your roof is a big deal. It's the one thing standing between your Round Rock home and the elements. That's why, when you need roofing services big or small, you need to hire a Round Rock roofing company you can trust. The good news is that, here in Round Rock, your choice is easy, because you have Rebuild Texas on your side, and there's no roofing problem our experienced roofers can't handle.

Why choose Rebuild Texas for your roofing needs?
When it comes to roofing, there are plenty of roofers in Round Rock out there vying for a chance to work with you. But, as we mentioned, when it comes to your roof, it's important to choose a Round Rock roofing contractor you can trust. Here are a few of the ways that your friends at Rebuild Texas have set out to earn your trust:
No matter what roofing service you need in Round Rock, we've got you covered.
Most Round Rock roofing companies specialize in one or two things, like hail damage repair or new roof replacements, but here at Rebuild Texas, we do it all! Our experienced roofers have what it takes to handle all roofing needs, from regular roof maintenance and roof inspections to full roof replacements and new roof installations. We also work with both residential and commercial customers.
You'll gain peace of mind when you work with our trusted Roofing team.
The last thing that you want to do is worry about if the person working on your roof is qualified or experienced, and when you work with our team, you won't have to. As a SELECT ShingleMaster® from CertainTeed and a Top one percent Roofing Contractor, we've built a reputation for excellence.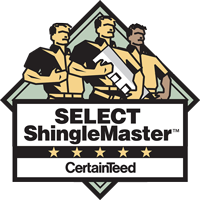 Our roof inspections, estimates and evaluations are always free.
Worried that your roof may have hail damage after a storm? Has it been a few years since your roof was last inspected? Wondering how much a new roof will cost you? With Rebuild Texas, you'll get the roof inspections, roof estimate and evaluations you need at no cost to you!
Find Quality Roofing Service near Round Rock Texas
Here's our location nearest you!
Round Rock Resources