What Sets Us Apart From Other Texas Roofing Companies
We are proud to be the premier roofing company in Texas here at Rebuild Texas. Though we are primarily based in the Dallas/Fort Worth area, we provide our roofing services throughout Texas. From Colleyville, Frisco to Grapevine to Houston to Southlake and Temple, we've got you covered with residential and commercial roofing services that will go above and beyond your expectations in terms of both process and end result.
In our brief inaugural post, we talked about how our bread and butter service will always be roof installation and repairs, while noting that we also provide a wide range of other related services here at Rebuild Texas. For many of our clients, we end up being their siding contractor, gutter installer, or even a general contractor.
Today's post will continue where our last one left off — so keep reading if you are interested in learning more about what sets us apart as a roofing contractor. We'll
The One Percent
We've described the basics, so let's get into some detail, and let's start off with a bang: we are a top one percent roofing contractor in the US! Our status as a Select Shingle Master roofing contractor means we are pretty much the best you can get when it comes to customer service and general quality. We could write quite a bit about what it means to be a "Select Shingle Master" (and we will, in a future post!) but for the purposes of today's article, we want you to know that such a title means we vastly exceed our competitors in terms of roof training, roof knowledge, integrity, and quality. In a nutshell, we won't be beat in terms of expertise or excellence. Here's some more evidence pointing to that fact:
A 4.9-star rating on Google Reviews!
An "A Rated Provider" on Angie's List!
Great reviews on InsiderPages, Texas!
Great reviews on YellowPages.com!
An A+ rating on BBB Accredited Business!
What Separates Us From Other Texas Roofing Companies
A solid online reputation is of course important, but it's not the whole picture. We are a roofing company that our customers find cost-effective, attentive to detail, and ultimately concerned with the wellbeing of our clients. Everything we do points back to that last point, and it's the main reason we are as successful as we are as local roofing contractors.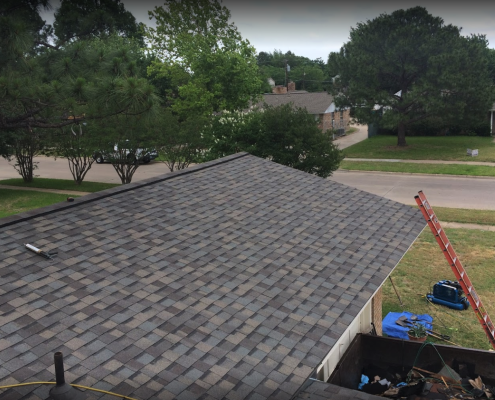 If you need a trustworthy contractor you can count on to tell you whether you need a repair or a roof replacement, we are the roofing company for you. If you need roofing financing that includes fast approvals, no prepayment penalties, and affordable payment options, we are the roofing company for you — not to mention the Military Incentives we offer, or our lifetime shingle warranties!
Our point is, we are worth your consideration. We'd love to provide you with a free estimate and learn more about the specific vision that you have in mind.
A Personal Touch
"If not for the Lord of Thunder raining down hail we would never need to repair our roof in the otherwise calm and quiet Texas environment. But when Thor and Loki do battle, I'm glad we have Rebuild Texas on our side. They have an incredible group of associates; and my experience with Brian Kehoe makes the job easy, I can tell he's on my side from the moment he rings my bell. He's always well-dressed and professional and his recommendations are top-notch showing me how to save money while getting a new roof that's going to last a lifetime of sunny skies. We will speak again Mr. Kehoe when the Norse Gods drop their HailFire upon this house." Andrew K. Five Stars, Google Reviews
As Andrew put it so well in his imaginative and flattering five-star review (one that we felt morally obligated to highlight it was so entertaining), we are on your side. Whether your need is commercial or residential in nature, we at Rebuild Texas would love to hear from you and be part of the solution. From high-quality materials to the great people we employ to our dedication to excellence on each job we complete, Rebuild Texas is a great choice as a top one percent roofing contractor!