When Does A Commercial Building Need A Roof Replacement
Your commercial roof protects practically every facet of your organization, including equipment, goods, visitors, and employees. However, your roof is vulnerable to damage due to severe storms, changing temperatures, and aging. A commercial roof needs to be examined on a regular basis for broken parts and have them repaired or replaced before the problem worsens. These periodic inspections can help to determine whether your commercial roof requires a repair or replacement by looking out for these common signs.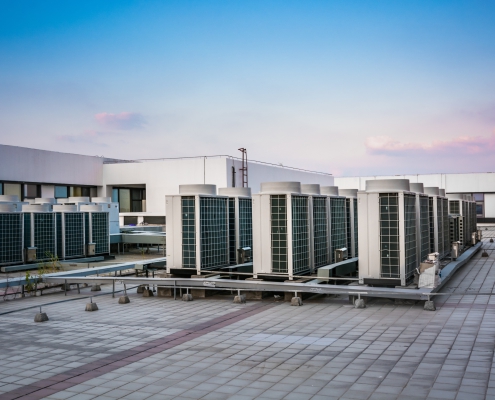 Blistering and Bubbles
Blistering or the presence of bubbles is one of the most obvious signs that your commercial building's roof needs a roof replacement. Excessive heat and high moisture cause blisters and bubbles which gather air and trap moisture beneath the roof. The stored moisture begins to eat away at the shingles, potentially causing extensive damage to your commercial roof.
While this issue can be resolved by removing and restoring the damaged area, most experts advocate a complete roof replacement. Bubbling and blistering on your commercial roof might signal that its membrane is entirely ruined.
Sagging Roof
When rainfall pools and is allowed to sit on the roof for a few days, it might cause the roof to sag. A drooping or sagging roofline is an indicator of leaks that threaten sheathing, rafters, and joists. Fortunately, it is possible to only repair the damaged area while leaving the remainder intact. However, this depends on the amount of damage and its impact on the entire roof. A complete roof replacement may be required if the roofline is substantially lowered or sagging.
Roof Membrane Damage
Damage to the membrane is another indication that your commercial roof needs to be replaced as opposed to repair. A flat roof with a roofing membrane is one of the most common styles of roofing used on commercial structures. When severe storms and high winds cause the roof to become elevated, the membrane on your roof will become damaged.
Membrane damage can also occur as the roofing adhesives age, resulting in open laps. This allows water to enter, further damaging the membrane of your commercial roof. A complete roof replacement solves this problem, preventing water damage to your business.
Visible Exterior Damage
If you notice damage to the exterior of your commercial roof, you should consider replacing it. The outside of your roof may have been harmed by damaged shingles, corrosion, loose metal sheets, or missing fasteners. These damages, if left unchecked, might lead to more significant harm. Replacing your commercial roof as soon as you discover these problems might save you a lot of money in the long run.
Roofs, like everything else, are subject to wear and strain. Roofing problems will only become worse if the property owner ignores them. Water stains, paint flaking, and leaks are all frequent symptoms of roof deterioration. If you see any of these indicators on a roof, contact a roofing contractor for an inspection, repair, or replacement.
We have offices located in Bedford, Lewisville, Weatherford, Cleveland, Austin, and Georgetown. We are a local, preferred contractor looking to provide our local communities with high-quality roofing repair, and replacement services. We provide both commercial and residential services. If you would like to schedule an inspection with a roofing expert or speak to our customer service team, give us a call or send us a message online.