What Are The Advantages Of Having A Metal Roof?
Metal roofs are a popular choice for new construction as well as the replacement of an old roof. Metal roofing materials can be constructed from a number of metals, such as galvanized steel, copper, aluminum, or tin. A metal roof has many benefits, but there are also a few drawbacks to take into account. These incredibly effective, low-maintenance materials can be the perfect fit for your house.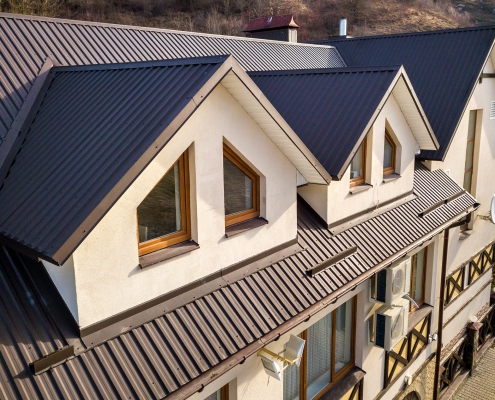 A Long Lifespan
Metal roofs do not attract lightning, which dispels one of the biggest misconceptions people have about them. Most homeowners choose metal roofing over other options whether re-roofing an existing structure or building a new one because of its extended lifespan.
A properly fitted metal roof normally has a lifespan of 40 to 70 years and frequently comes with a 30- to 50-year manufacturer's warranty, making it endure as long as the house. Traditional asphalt roofing, in contrast, typically lasts 12 to 20 years. You can rely on the material's exceptional resilience to endure the elements, including wind gusts up to 140 mph, and not corrode or break thanks to rust-proof coatings.
Environmentally Friendly
As a petroleum-based product, conventional asphalt shingles increase reliance on fossil fuels. On the contrary, metal roofs are regarded as a more environmentally friendly option. They are 100 percent recyclable and contain at least 25 percent recycled materials. Steel roofing is recyclable numerous times without losing strength.
Metal roofing is also an excellent choice for homeowners who want to implement eco-friendly initiatives such as solar panels and rainwater collecting systems. Finally, in some roof replacement projects, a metal roof can be put directly over asphalt shingles without placing excessive stress on the roof's structural support.
Save on Energy Costs
The expense of installing a metal roof can be returned through savings in monthly energy bills due to the reflective qualities of this type of roof. Metal roofs reflect solar radiant heat rather than absorbing it, which can lower cooling costs by as much as 25% throughout the year, particularly during hot summer days. Additionally, some metal roofing is coated with specialized heat-reflective pigments to reduce heat input and keep homeowners comfortable.
Customizable Design
With a variety of metals to choose from, there are also a large assortment of colors, finishes, and designs available. Modern metal roofing is available in more than 100 different colors, including standard, premium, and custom shades, as opposed to those that asphalt can have. The two most typical metals used in residential roofing are steel and aluminum, both of which are made to maintain paint finishes well.
The majority of homeowners with metal roofs selected the typical vertical ribbed panels or "standing seam" structure, however, metal roofing does not lack in stylistic possibilities. If you like a more conventional profile, you can choose a metal shingle that is made to look like wood shakes, slate, and clay tiles. Metal roofs can be an attractive option regardless of your roof style due to their longevity, low maintenance, and energy efficiency.