How to Increase Your Roof's Energy Efficiency
The roof is a major source of wasted energy, both for residential and commercial Texas properties. Energy loss occurs when the sun's heat penetrates the roof and enters the home or building and when air from the inside leaks out through the roof. In both cases, you pay more for heating and cooling costs.
Benefits of Increased Roof Energy Efficiency
Increased energy efficiency offers several benefits. Savings on utility costs provide the best improvement from energy efficiency. Since 50% of total energy use goes to heating and cooling, when you find ways to increase energy efficiency, you save money.
Savings on utility costs
Improved temperature comfort
Avoid heat damage to the roof
Positive impact on the environment
Ways to Increase Energy Efficiency Through the Roof
Thankfully, you can invest in improvements to your roof to positively impact energy efficiency. Before you make changes, schedule a roof inspection to determine the current condition of the roof. Old or damaged roofs have reduced energy efficiency. Before you implement energy efficient strategies for your roof make the necessary repairs.
1 – Cool Roofs
Did you know that during the summer your roof may reach temperatures around 150 degrees? That's hot! However, cool roof strategies can reduce your roof's temperature by up to 50 degrees. Cool roof materials include reflective paint, reflective roof tiles and shingles or a roof sheet cover. Reflective paint usually works on most types of roof materials, making it an effective and affordable option for existing roofs.
2 – New Roof with Energy Efficient Materials
If your roof needs replacing, consider using ENERGY STAR® or other energy efficient materials. Metal and tile roofs are more energy efficient than traditional asphalt roof shingles. Plus, both options create added style for your property. According to the EPA, ENERGY STAR certified roof products may reduce demand on your air conditioner by 10% to 15%. At Rebuild Texas, we offer a variety of roofing materials from top suppliers.
3 – Install Insulation
One benefit of a roof inspection is to identify potential problems with your roof. Poor insulation not only wastes energy, it may also lead to roof damage. The options for improved insulation include both internal attic insulation and external foam roof boards. Work with your roofing professionals to determine the best type of insulation for your roof. The slope, climate and roof material all play into selecting the best insulation solution. Also, many of the other energy efficient strategies depend on proper insulation for the best results.
4 – Green Roofs
Green roofs are a newer trend in roof energy efficiency. Green roofs work best for commercial properties, including multifamily homes. A green roof is simply adding vegetation to your roof to absorb and reflect heat from the sun while providing additional insulation. Add a roof top garden as a place for multifamily residents to hang out and build community connection. Not only do green roofs provide energy efficiency, they also help the environment with air purifying benefits.
Save Money with Increased Roof Energy Efficiency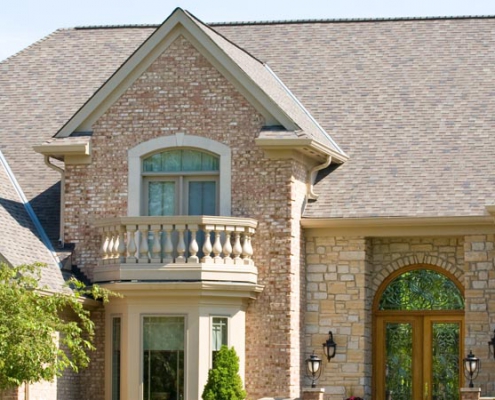 At Rebuild Texas, we understand roofs. We're invested in providing the best roofing solutions for our clients. This includes increased energy efficiency. We want to help you save money and keep your roof looking and working great.
Contact us today for a free estimate or to discuss the best energy efficient roofing solutions for your property.